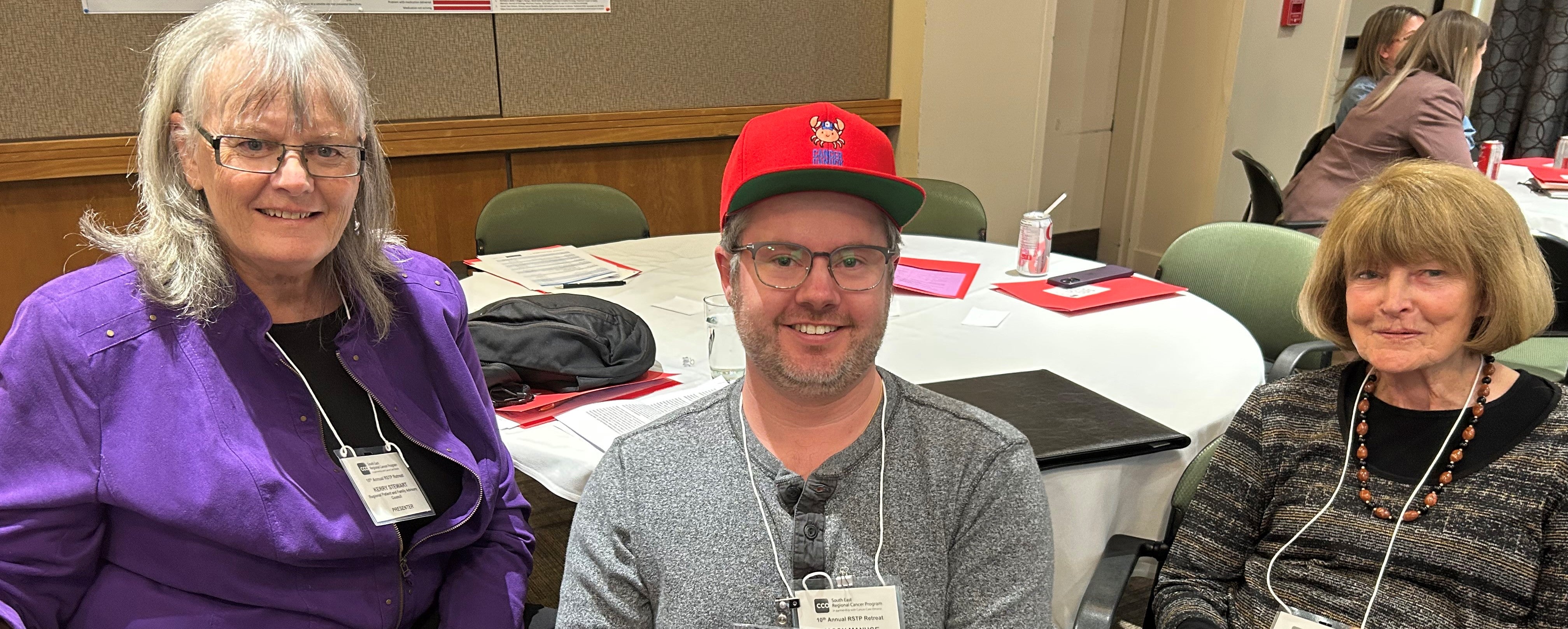 Patient and family advisors shape cancer care in South East Ontario
Article courtesy of Mark Nardi, Communications Advisor, Kingston Health Sciences Centre
Co-design refers to an approach to designing solutions, creating strategies and building on experience, in which community members are treated as equal collaborators in the design process. The FLA OHT is founded on the principle of co-design. As we build a culture that supports and values people, family and care partners in our work, it is essential we are guided by the voices of the patients, community members, families, and care partners in developing and designing cancer programs.
Partnerships between patients, support networks and health-care providers are also at the core of Kingston Health Sciences Centre's (KHSC) approach to treatment. That's why clinicians and health-care administrators work closely with patient and family volunteers on the South East Regional Cancer Patient Family Advisory Council (SERC-PFAC), to help shape the cancer care experience.
As one of three long-term advisory councils facilitated by KHSC, it brings people who are receiving care at the hospital and their family members together to advise care teams and partner organizations. In collaboration with health-care staff, advisors leverage their insight and experience to develop resources for people and families currently undergoing treatment at the South East Regional Cancer Centre, located at KHSC. The council also provides input regionally to the South East Regional Cancer Program and provincially to Cancer Care Ontario.
Like all of KHSC's patient and family advisory councils, it is composed entirely of volunteers who meet regularly to share their experiences and to help make a difference for others. There are currently 11 people acting as experience advisors on the council, which is co-chaired by advisor Marla Rosen and program operational director Renee Hartzell.
Advisors help develop resources for people and family members, and provide insight on patient experience. Their diverse and personal perspectives build a culture of patient- and family-centered care that ensures people's values, experiences and knowledge about their own health are incorporated into care discussions.
"I wasn't really aware of patient advisors when I was undergoing cancer treatments myself, but as a caregiver for my husband, I was frequently at the hospital, and saw this as an opportunity to get involved," says Vivian Bethell, patient advisor.
"I spoke with [co-chair] Marla Rosen, and knew this group would really make a difference." 
That was nine years ago, and since joining Bethell has worked with the Cancer Centre's COVID-19 planning team, participated in the annual systemic treatment retreat and helped design Breast Imaging Kingston, to name just a few highlights.
"I really feel accepted as part of the team. We've had a lot of influence on the patient experience, and I know we'll continue to."   
The advisory council counts on the dedication of everyday people to make a difference for others. If you or a family member received care through the South East Regional Cancer, consider volunteering to help shape care for future patients.
Learn more about becoming a patient advisor by emailing PFCC@KingstonHSC.ca or calling 613 549-6666 x4424.