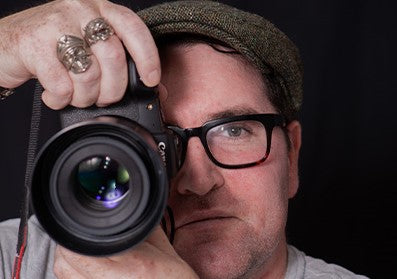 Finding hope through the 'Inner Lives' photography project
Courtesy of Lindsay Kennedy, Communications Officer, Providence Care
Ryan Fitzgibbon, like so many before him, was told his life may look different post-cancer. But Ryan didn't let that affect this love and passion for photography. Through a coordinated care approach with surgery at Kingston Health Sciences Centre, rehabilitation at Providence Care Hospital and home support through Home and Community Support Services, Ryan was able to rebuild his strength and confidence and pick up a camera again. As you read Ryan's story you will see how the power of health-care partnership in the region played a vital role in Ryan's wellness journey after a cancer diagnosis. Through collaboration, a continuum of care, and a holistic approach, Ryan looks back on his wellness journey so fondly he now hopes to give back to others. We hope Ryan's positive outlook on life and unwavering commitment to his craft inspires you.
Ryan Fitzgibbon is a professional photographer who just recently reignited his love for the craft. He's now picking up a camera for the first time in more than 18 months thanks to Chris Miner, a Providence Care volunteer and photographer who runs the 'Inner Lives' photography project once a week at Providence Care Hospital.
"It was a serendipitous discovery when I saw a photograph Chris took of myself in a wheelchair," Ryan explains. "It was then that I knew I could continue to follow my passion of being a professional photographer, it might just look a bit different than I am used to."
In 2021, Ryan was diagnosed with multiple myeloma, a form of blood cancer and spent more than a year at Kingston Health Sciences Centre. The cancer affected Ryan's spine, requiring back surgery to remove lesions. With two steel rods and 16 screws in his back, Ryan is adapting to a new way of life in a wheelchair and was unsure how his professional photography career would fit in.
When he was transferred to Providence Care Hospital (PCH) to begin his rehabilitation journey in March 2023, he met Chris Miner who runs the 'Inner Lives' photography project, he knew his 18-year photography career wasn't over. As a past creative director and freelance photographer in Toronto for 18 years, Ryan's life has revolved around photography.
"The program really helped me in terms of getting out of my hospital room, interacting with people again and speaking the language of photography with Chris. It really showed me that I have a skill set that would be beneficial to the project and it gave me hope for the future," explains Ryan.
Chris runs the photography project once per week with the help of volunteers and has been involved with similar projects at Providence Care since 2018. Transforming a room into a pop-up photo studio complete with a high-quality printer, Chris encourages patients, clients and their loved ones to take photos of items that have sentimental value to them as a means of telling a story. These items can be photographs, books or any other mementos that hold significant meaning.
"Beyond also teaching them basic photo techniques of light, shadow and composition, the underlying theme of the 'Inner Lives' project is to represent people's memories, imaginations and aspirations," says Chris. "What people have chosen to photograph reveals parts of their lives: who is important; where their imaginations travel and what is interesting or beautiful."
Ryan attended the Inner Lives project sessions every week during his rehabilitation stay at PCH. Chris and Ryan share a mutual feeling of joy that the project brings them – even when their subjects may not be experiencing those same feelings when they arrive.
"We've had people come in who tell us they are feeling depressed or having a particularly sad day and that is what they'd like to convey through their photographs. It's a really unique way to connect with people especially in vulnerable situations – we are giving them a voice and they are in total control of how they want to be photographed," says Chris.
A distinctive part of the complimentary program is that everyone is provided with a small gift to take with them – a few high-quality photos printed right in-house. These prints are valued and cherished, with one client so thrilled with her results, she printed 18 photos for friends and family.
Ryan and Chris say they have learned a great deal from one another sharing their talents and skills. Ryan was discharged from the hospital in July. He is now settling in at home with continued outpatient therapy but continues to attend the weekly photography sessions because of the sense of purpose and joy receives from the experience. He hopes to become an official Providence Care volunteer in the coming months.
As for his future photography career, Ryan says that is the "million-dollar question". He plans on making Kingston his home for many years to come and is reformatting what his future business will look like. He knows that with the help of an assistant, he can have a meaningful career and he has a few ideas up his sleeve of what that could look like.
The "Inner Lives' project has provided both photographers with valuable life insights – to recognize, appreciate and utilize what is in our lives, not what we have lost or what we wish for. As for those who participate, it opens up a world of imagination, possibilities, expression and an assertion of their identity.
Ryan's photography can be viewed on Instagram, Facebook, and on his website.
Chris Miner's 'Inner Lives' project is funded as part of the Artists in Communities and Schools Project through the Ontario Arts Council (OAC). To learn more about the project grant visit http://www.arts.on.ca/grants/artists-in-communities-and-schools-projects.