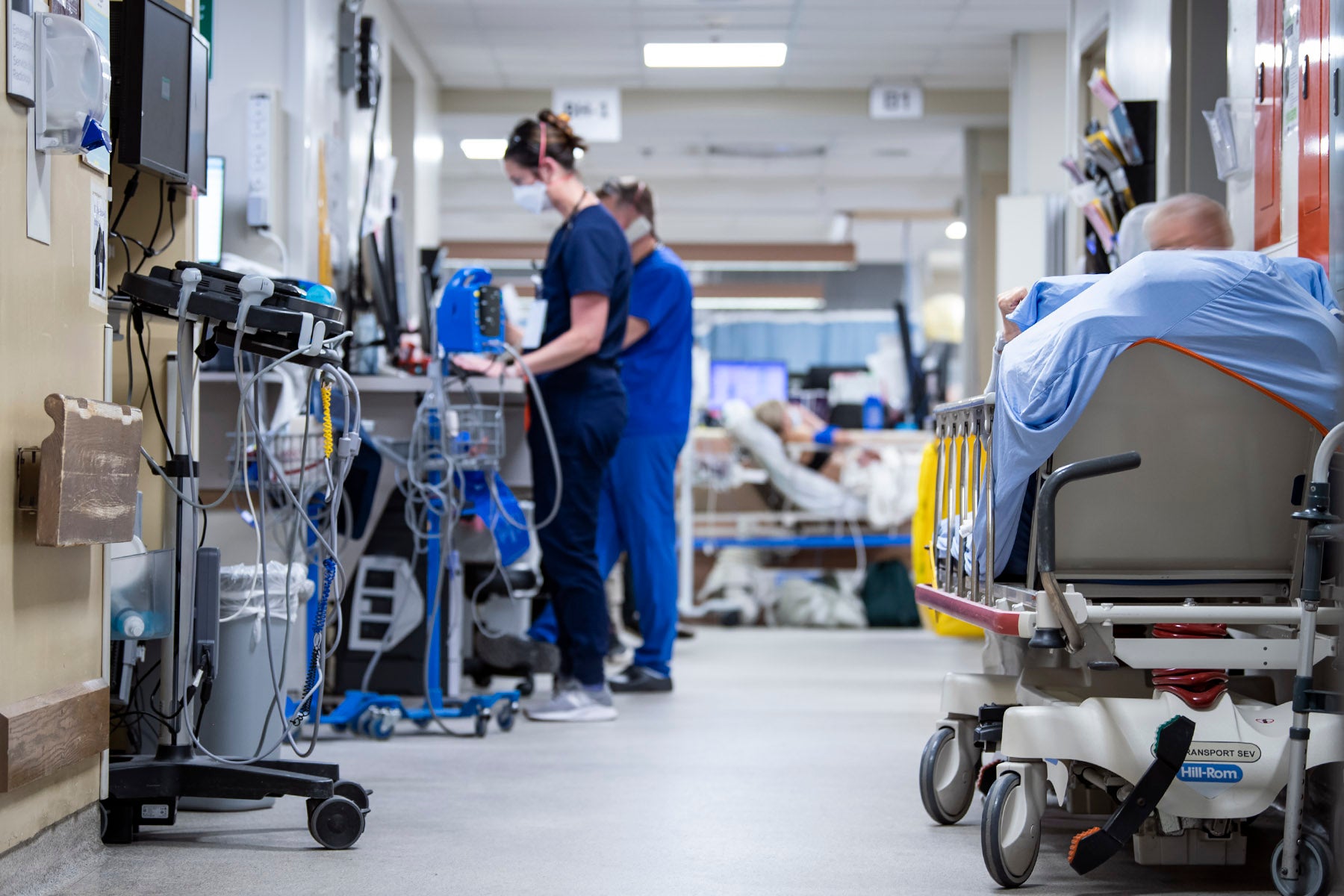 Easing emergency department congestion: can communication help? KHSC teams up on campaign aimed at helping people make the best health-care choices.
Article courtesy of Christine Maloney, Communications Advisor, Kingston Health Sciences Centre.
In chaotic health-care environments, requests for communication support often happen when a problem needs to be communicated to the public – 'We need a sign to let people know wait times are long.'
But could communication also be part of the solution? It's possible, if we go back to the root of the problem and first understand what's causing long wait times.
Carol McIntosh, operational director of emergency services at Kingston Health Sciences Centre (KHSC), explains the crisis as simply, "There are more seriously ill people in the Emergency Department (ED) since the COVID-19 pandemic began, not enough available hospital beds for admissions, and a shortage of ED staff and physicians to keep up with the demand for care."
Crises are opportunities
Faced with tough decisions such as occasionally reducing services to consolidate emergency medicine staff and physicians where they are needed most, an examination of patient volume data gave Christine Maloney, a communications advisor at KHSC, insight into how public communication might help ease the problem of an overloaded ED.
The data revealed approximately 25 per cent of yearly ED visits at KHSC were for less- and non-urgent health concerns, the majority of which could have been addressed elsewhere. In addition, a survey of patients in the ED with non-serious concerns discovered 87 per cent had a family doctor and 74 per cent of those people didn't call their family doctors first.
"We questioned why people weren't calling their family doctors first or seeking care elsewhere for non-urgent health concerns," says Maloney. "We thought, perhaps people don't know their family doctors may have same-
day appointments available, or they don't know about alternative care options or when to go to the ED. "We decided to give people information and see what happened."
​For non-life-threatening health concerns, call your family doctor first
Building on a successful 2015 campaign initiated by a division of family practice in B.C., in which the main message was 'Call your family doctor first for non-serious concerns. Same-day appointments may be available', KHSC's Right Place Right Care public communication campaign was developed to help reduce the number of non-serious visits to its ED during June to October, the busiest months for this level of care.
"At the centre of the campaign is the webpage RightPlaceRightCare.ca, which calls out in plain language the types of care people may need and their care options in a simple flowchart structure," says Maloney.
In an attempt to strengthen connections to primary-care providers and maximize the use of community-based services, the webpage outlines alternatives to seeking non-urgent care at the ED, including medical clinics, pharmacists, community paramedicine, and mental health and addiction services. The page has received approximately 4,000 views and the average time spent on it is more than double other KHSC webpages. 
"Having the campaign's messaging and a simple URL worked well when creating media releases about capacity pressures and responses, like KHSC's decision to begin capping the number of patients seen daily at the Urgent Care Centre (UCC) due to staffing shortages," says John Pereira, media relations lead at KHSC.
"The newsworthy nature of service reductions meant we were able to reach many people across the province with the 'choose the right place for the right care' message. The resulting print, online, radio and TV media coverage garnered a total reach of 40.5 million."
Campaign messaging was also communicated on signs and handouts at the UCC and ED to reach patients directly. The campaign URL was shared on KHSC's social media channels, including as part of a social campaign using the hashtag #UseYourEDwisely. It was also used in written profiles of KHSC staff working in the ED and UCC, and in posts about UCC patient capping. Facebook and Instagram posts achieved a total reach of 11,400 and a 10 per cent engagement rate. Twitter posts earned 2,300 impressions and an engagement rate of four per cent. Most importantly, the campaign, which started in March 2022, aimed to have a correlated reduction in less- and non-urgent visits to the ED by a minimum of three per cent.
"To our surprise, low-acuity visits decreased compared to the previous three years," says McIntosh.
In 2022, average monthly visits for the period June through October were down 33 per cent compared to 2019 volumes, down 28 per cent compared to 2021 volumes, and down 10 per cent compared to the beginning of the COVID-19 pandemic in 2020.
Strategic, clear communication has power
Clearly, only communicating the crisis happening in the ED is not sufficient. Suggesting options for people supports them in their decision to avoid the ED for non-serious concerns and getting their health-care needs met elsewhere.
Since the campaign's success depends on the support and action of community members, future campaign strategies will focus on collaborating with partners like primary care and the Frontenac, Lennox and Addington Ontario Health Team to expand consistent messaging and reach more people.
Through improved internal and external partnerships, the campaign will continue to focus on providing information that furthers people's understanding of how choosing the right place to receive the right care from the right health-care provider can positively impact people's health, improve the work experiences of care teams, and allow the overall health system to function at its best.